Embroidery involves the use of vivid colors and can turn an ordinary piece of fabric into a masterpiece. Although embroidering clothes seem like a difficult job, it's not that tricky, and it just requires a little practice. You can embroider clothes either manually or by using an embroidery machine, depending on your requirements.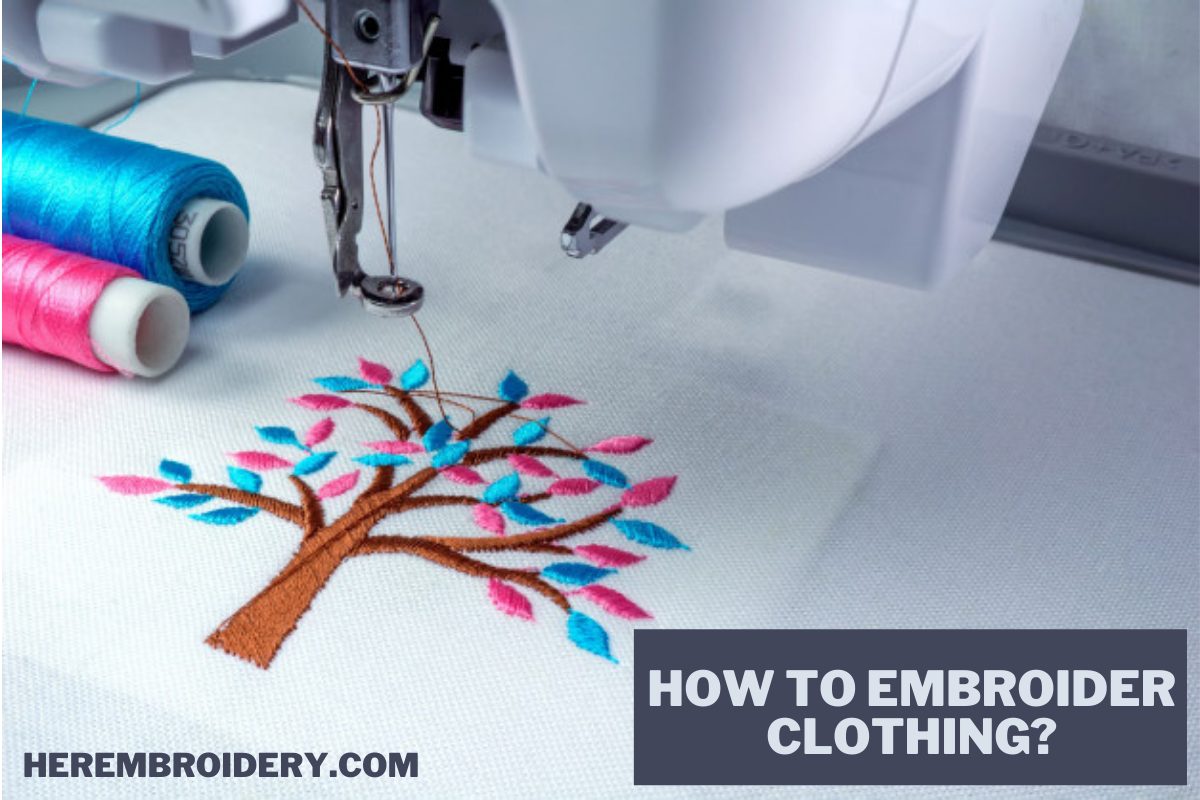 Manual Embroidery
When embroidering manually, you will need tools like thread, needle, hoop, and a piece of fabric, and you're good to go. Depending on the design, you will require different colored threads and the right hoop size that gives you enough space for printing your design. The needle's thickness should be according to the stitch that you have selected for embellishing your clothes.
Besides these items, you will also require other things such as a tracing pencil and paper for sketching your design before printing it onto the fabric. After drawing your design, you have to cut it out and pin the paper onto the fabric for tracing your design. Then you have to tie a knot after threading the needle and make sure that the thread has a long length that you're inserting into the needle.
Once you have threaded the needle, you can start embroidering your design by starting on the fabric's underside so that knot is hidden underneath the cloth. Although hand embroidery is easy, it comes with many disadvantages and can also negatively impact your health. For instance, embroidering clothes for extended hours can affect your eyesight or give you fatigue and muscle strain.
---
However, that won't be the case when you're using embroidery machines due to their user-friendly operations and added convenience. The embroidery machines provide you with many built-in designs and have additional specs that make embroidery easier and effortless. Although various best embroidery machines are available in the market, each embroidery machine is designed to perform a specific task.
For instance, some embroidery machines are ideal for hat-making due to their hoop size and the ability to work with stiff fabric. In contrast, others are more suitable for monogramming due to the number of monogramming fonts in these embroidery machines. Plus, not every embroidery machine can work on every fabric and only work with specific materials. Here are a few types of embroidery machines that you can find in the market.
---
Sewing and embroidery go hand in hand, and there are different machines available for sewing and embroidery. However, not everyone can afford a separate machine for sewing and embroidery due to the cost that comes with these machines. The sewing and embroidery machines are two in one, allowing you to sew clothes and print embroidery designs. These machines are a budget-friendly option and provide all the essentials for both embroidery and sewing.
For instance, these machines provide you with plenty of built-in embroidery designs that you can use for embellishing clothes. Moreover, these also give you a wide variety of stitching styles that you will require when sewing clothes. These machines reduce the effort required for embroidery by providing additional specs that add extra advantages for the user. Now you can complete all of your projects in time without putting too much time and energy.
When you're looking for the best embroidery sewing machine combo, Brother and Janome are the leading brands. Both of these companies have retailed high-quality embroidery machines that deliver fantastic performance. For example, Brother PE900 comes with a touch LED screen that allows you to preview the design and make edits. Plus, these sewing and embroidery machines provide you with 138 built-in embroidery designs and 240 stitching style, which is more than enough.
These machines also have an automatic needle threader, which pushes the thread into the needle automatically, adding extra convenience for the user. Similarly, the Janome Memory Craft 12000 provides the user with 338 built-in embroidery designs and 425 stitching fonts. Plus, it comes with four hoops that can be used for printing all sorts of designs. They have a fast stitching speed and allow you to complete your projects in time.
---
To run a successful home business, you need the right kind of machinery that fulfills professional embroider demands. These embroidery machines must have a simple and easy operation and advanced specs required by most professionals. For instance, the embroidery machines should have features like fast stitching speed, an LED for previewing the design, and an automatic threader.
Moreover, these machines have a large embroidery area that gives the embroider plenty of space to print the designs without limitations. Plus, the best embroidery machines for home buisness successfully meet all diverse requirements and delivers exceptional performance. Furthermore, these machines offer you plenty of design variety and have built-in storage for keeping your designs.
Models like the Janome Memory Craft 12000, Brother SE900, Brother PE770, Janome Memory Craft 11000se are some of the best embroidery machines for a home business that you can find in the market. These machines have all the essentials and have fast stitching speed, which helps professional embroiders complete the project. Plus, they have a large and bright working area and can work with various types of fabrics.
---
There are a variety of embroidery machines available in the market that have plenty of advanced features. However, these machines are not suitable for beginners due to the degree of complexity associated with them. The beginners don't have much experience in embroidery and aren't familiar with the technicalities.
The best embroidery machines for beginners have simple and easy operation and don't have advanced specs that are more suitable for professionals. Rather these machines have all the basic specs which are necessary for embroidery. Being a beginner, you won't have much trouble learning how to operate these embroidery machines due to their simplicity.
Brother PE800 is a perfect embroidery machine for beginners due to its incredible performance and user-friendly specs. The newbies won't have too much trouble understanding the basics of this embroidery machine. Another suitable model for beginners is the Brother PE770 that comes with plenty of convenient features that are a major advantage for the newbies.
---
Custom designing is another form of embroidery that you can use to embellish t-shirts, jeans, and other items. The utmost priority of the custom designers is the variety of designs they are getting within the embroidery machine. Therefore the best embroidery machine for custom design features plenty of built-in designs, fonts, and stitches.
Janome and Brother are the most popular brands for custom embroidery and retail high-quality embroidery machines. Models like Brother PE800 and PE550 are quite popular when it comes to custom designs. These embroidery machines provide you with broad design variety and have other specs like a large working area and fast stitching speed adding extra convenience.
---
You can't do hat embroidery with ordinary embroidery machines that are available in the market. Hats and caps come in different sizes and require special hoops, which are not provided along with the embroidery machines. However, only specific embroidery machines are compatible with these types of hoops and allow you to embellish hats with the most alluring designs.
Some of the best embroidery machines for hats include the Brother PE800, Brother PE 600, and Singer Quantum Stylist 9960. These machines have excellent compatibility with hat hoops and provide you with plenty of built-in designs. For instance, the Brother PE600 features 103 built-in designs and a well-lit working area that allows you to work with dark fabrics.
---
When you're getting an embroidery machine for commercial purposes, your top priority should be the number of specs that come with them. It's because the more features an embroidery machine has, the better it is as they must perform diverse tasks. Projects need to be finished in time, and such embroidery machines pack a lot of conveniences, which helps you complete your projects in time.
For example, multi-needle embroidery machines have become popular as these save you from the trouble that comes with a constant change of threads. The Janome MB S4 embroidery machine comes with four needles and allows you to print designs that require various colors. Moreover, best commercial embroidery machines provide the user with plenty of additional specs that enhance work productivity.
---
Embroidery machines can be quite expensive, and not everyone can afford them due to the hefty price tag attached to these products. However, there are plenty of embroidery machines that come at an affordable price and have all the essentials for embroidery. These provide you with lots of built-in designs and additional specs that make embroidery much easier.
The best cheap embroidery machines include Brother PE600, PE525, PE540D, and PE800, which deliver a fantastic performance. Plus, you won't have to pay a fortune for purchasing these embroidery machines, and you can get them at an affordable price. These provide the user with plenty of built-in designs and come with a 25-year warranty.
---
Monogramming is a unique form of embroidery and involves the printing of patterns, symbols, and logos. You can either make monograms with sewing embroidery machines or by getting an embroidery machine. However, keep in mind not all embroidery machines are suitable for monogramming but only the ones that provide you plenty of lettering fonts.
Brother embroidery machines are ideal for the best embroidery machines for monogramming, and you won't regret purchasing them. These provide you with a good variety of lettering fonts and monogramming fonts. Plus, these machines feature fast stitching speed, which is quite essential when it comes to monogramming. It's because this form of embroidery requires a lot of effort and fast stitching speed adds extra convenience.
---
Final Verdict
Learning embroidery isn't a difficult task as long as you have the right equipment and tools. There are various forms of embroidery, and each requires a different type of embroidery machine. Although you can embroider clothes manually, it requires a lot of effort and can impact your health. However, with the embroidery machines, you can become a professional in no time due to user-friendly specs and simple operation without putting much effort.