Tassels are everywhere, be it your handbags or clothes, your jewelry, or keychains. Has it ever occurred to you that you can get these tassels ready at your home? With the sudden popularity and infatuation, it is natural to desire a simplistic process to guide you on how you can create these popular embroidery floss tassels and make your own little creative touch. Thereby, this article offers you the method on how to make tassels with the embroidery thread with the step-by-step procedure while answering your major concerns as an enthusiastic learner.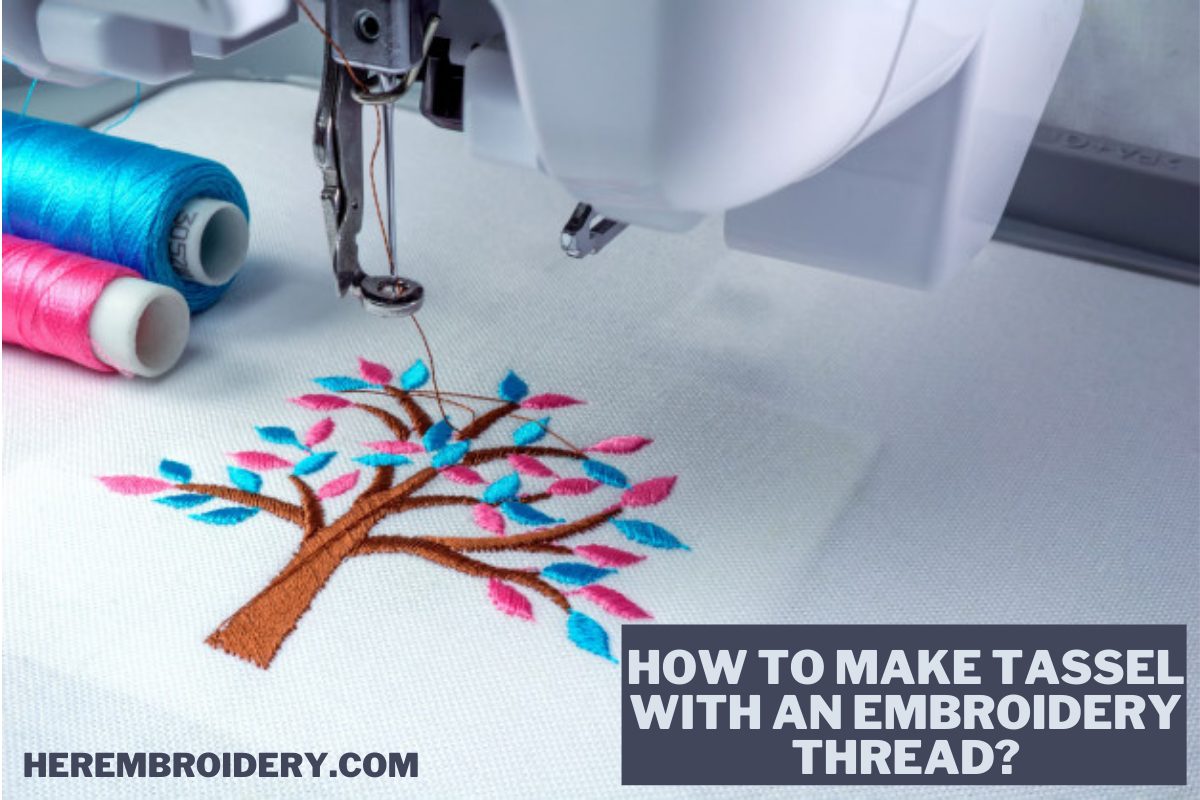 However, if you can amazing designs with the help of Best Embroidery Machines For Custom Design. It will help you in making fantastic designs for your cloths.
How to Make Tassel with an Embroidery Thread?
Step # 1
For this purpose, firstly, decide what length is going to be your tassel and then, cut a small piece of cardboard that is somewhat ½ inches larger than that. Moreover, if you want to add convenience and ease, you can use your fingers to structure the tassels or the kitchen fork to set the final product's size.
Furthermore, if you do not have cardboard, you can go for a bundle of threads and make it 18 inches long. This way, you can go for the long pieces and can easily make your way to the shorter pieces with an overall effortless and trouble-free process.
Step # 2
Likewise, start wrapping the embroidery thread over and over again on the cardboard. You don't have to go more than 20 times; that will make your tassel thicker than usual. Thus, you will have to keep in mind the thickness you want to give your tassel. Another thing that is necessary to consider is the tightness, i.e., don't roll or stretch the thread too much on the cardboard. Thus, this can lead to a tension imbalance between both sides.
Step # 3
Now, stop the wrapping if you think you have achieved a certain amount of thickness for the end product. Here is a step to remove the thread from the cardboard. After that, with the help of the thick needle, cut the thread and tie a knot to make the whole bundle remain in place.
Step # 4
Now, slip the loop from the cardboard and cut away the extra tails of the tassel. Tie the tassel at the neck that is some ⅙ inches from the top. Then, take a metal strand and pass it through the gap between the tassel's head and neck. Wire it safely, and you can also use a ribbon for this step.
This final step offers you the creative leverage with which you can add the beads on the head of your tassel. Likewise, you can use polymer clay to add little pieces to enhance your tassel's attraction value. Additionally, if you are new learner then Best Embroidery Machines for Beginners will be very helpful.
Step # 5
Finally, take the sharp scissors and cut the imbalanced tails of the threads in the tassel. You can further spread the threads and separate the strands to keep it fuller, so it does not look jam-packed.
Now, you can use these tassels in whatever you want, be it earrings or a dress, based on your preference. Furthermore,you can also make hats by using Best Embroidery Machine For Hats. It will help you in sewing stylish hats.
FAQs
What kind of thread do you use for tassels?
While you are using an embroidery thread in the tassel making process, make sure you are using a thinner thread, usually silk or a cotton embroidery thread, for a fuller look. Another thing you must keep in mind while making a tassel with an embroidery machine is that it uses a washable fabric like cotton that can be reused and work for you for a longer time period.
How do you make fancy tassels?
To add an overall fancy touch to your tassel, you can go for a thread knot around the neck just below the head of the tassel. You can also add the beads and polymer clay pieces to increase the attraction value of your piece. If you are going for an earring specifically, you can add the one unique piece of bead on the head to shine it from afar.
Final Thoughts
Finally, after a simple and trouble-free process, you are able to achieve the best embroidery floss tassel with your own personal affection and creative touch. You can make as many as you want and can utilize these beautiful pieces in your handbags, your dresses, jewelry, more specifically, earrings and what not.
In the end, keep in mind the fabric that can help you use the tassel for a longer period as evidence of your creativity and a symbol of personal affection. Enjoy this ingenious and innovative process.