Embroidery machines are the top preference for detailed and elegant needlework. However, everyone cannot afford to buy embroidery machines for home use. You might think that not having these high tech machines means turning to hand embroidery. But this can take too much time! Also, embroidering with your hands, you may not be able to create the most accurate stitches.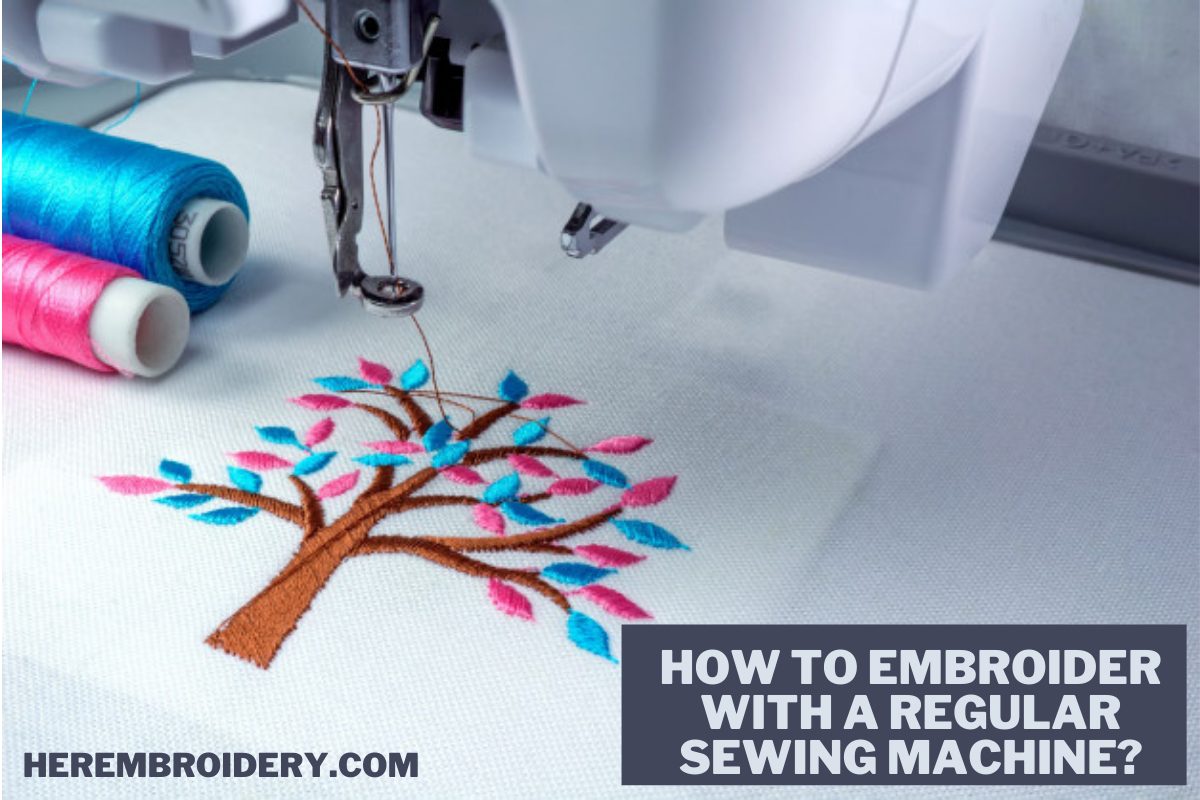 So this is where you can make use of your regular sewing machine to save more time and money. Whether you are running a small business or trying out embroidering little motifs at home, this method can help you achieve promising, if not THE BEST, embroidery results. Here are some easy to follow steps that can teach you how to embroider with a regular sewing machine.
Additionally, Best Embroidery Sewing Machines Combo can help you in saving your time as well as space.
Steps To Embroider Using A Regular Sewing Machine
Firstly consult the instructions manual to learn how to adjust the feed dogs as different machines have different techniques. Once you are aware, lower the feed dogs to get a hold of the fabric. You can now ensure control of the movement of your fabric while sewing.
Now you need to select the thread of your choice and wrap it around your bobbin. It is advisable to use sufficient thread to ensure that you do not run out of thread in the middle of your stitching process.
If you want to be more precise and accurate with your embroidery stitches, we suggest that you attach a darning foot to the presser foot. This will allow you to get a clearer view of the space of the fabric that is being embroidered. However, this is an optional step, and you can continue to do freehand embroidery without using any of the feet if you like.

Now coming to the needle, you want to ensure that you pick the needle that is most suitable for embroidery. In case you are using an embroidery thread instead of the regular thread, you might consider using the needle with larger loops. The size of the needle also depends on the kind of fabric you are embroidering using the machine. However, Best Commercial Embroidery Machines can handle the heavy and continuous workload.
After setting all the machine components in place, you need to balance the tension of both the upper and lower threads. This helps ensure no extra thread on either side creates any loops or unevenness of stitches during the embroidering process.
In case you are using a slippery fabric like silk or jersey, you might want to add a stabilizer to prevent too much movement of the cloth during the embroidery process. Hence a piece of this stabilizer is cut and placed directly below the area of the cloth that is being embroidered. This will keep the fabric from gathering in one place or slipping away while stitching.
Now using a fabric marker pen, draw your choice of design on the fabric. If you're a beginner, we suggest using easy to trace designs like block letters when writing a word or a phrase or choose patterns with straight lines. These are easier to stitch in comparison to script letters and curved lines.
To further add to your convenience, consider placing your fabric within an embroidery frame. This will make it much easier for you to move the fabric around without ruining the design's orientation. This is a simple process where you simply unscrew the embroidery frame and place the cloth between the two hoops and screw the bolts back. Make sure to keep the area to be embroidered in the centre.

Once you secure the cloth within the frame, place it under the machine's needle and start the stitching process gradually. As you begin to get hold of the motion, you can start increasing your pace while maintaining control of the fabric hoop, adjusting it back and forth to follow the design. For bigger and bolder patterns, try using the zig-zag stitches to get quicker coverage.
After completing your design, pull in both ends of the thread and tie them up together. Using scissors cut any extra ends of the thread, and you have your own embroidered motif ready for display.
Helpful Tips For Easy Embroidery Process
Make sure you have all the necessary appliances available beforehand. The suitable needles, sufficient thread, and stabilizer, scissors, etc. Running out of material during the process can be a real hassle.
Acknowledge the fact that you are a beginner, and you will make some mistakes at the start. Try starting with a smaller project or an easier task to work your way towards the complex tasks. This will help you gain confidence and motivate you to do better with more practice.
Try making notes when starting with the embroidery process. Write down what kinds of fabric you've tried and the mistakes you've made or what achievements you made. You can also write about how you intend to correct the errors and what designs you want to try in the future.
No matter what fabric you are using or how skilled you are, you should always try a test stitch beforehand. Different machines require different techniques, and so trying it out on an extra piece of fabric instead of directly on the embroidery fabric can give you an idea of how to operate the machine.
Furthermore, you can also read the reviews of Best Embroidery Machines for Monogramming.
FAQs
Can you embroider on a normal sewing machine?
Yes, you can! You may not get as professional results as you would expect from an embroidery machine, but you can get some pretty decent designs using a normal sewing machine.
Can you embroider without a hoop?
Yes, you can, but for better control and efficient results, we suggest you do use hope while embroidering.
What can I use if I don't have an embroidery hoop?
You can use a scroll fabric to control your cloth's movement if an embroidery hoop is unavailable.
Conclusion
Using a regular machine is definitely not the perfect alternative for the embroidery machine. However, if you follow these simple steps and utilize the little helping tips in your needlework, you can get some pretty good embroidery results at a much more economical price than when using the costly industrial embroidery machines.