Embroidery is a great way to add a fun and unique touch to clothing, accessories, and other fabrics. If you're new to the world of embroidery, this blog post is for you! Here we will cover the basics of stitches in embroidery – from simple running stitches to more intricate chain stitches. Let's get started by grabbing a needle and thread!
Introduction to Embroidery
Embroidery is an ancient art form that has been practiced for centuries. It involves the use of a needle and thread to create decorative designs on fabric. Embroidery can be used to embellish clothing, tablecloths, pillowcases and other items of decor. There are a variety of stitches used in embroidery, from the basic running stitch to more complex patterns such as backstitch trellis. Each stitch adds its own unique texture and visual appeal to the finished product. With patience and practice, anyone can master the art of embroidery and create beautiful pieces of art.
Running Stitch
The Running Stitch is one of the most basic embroidery and sewing stitches and is usually the first stitch learned by beginners. It is done by running the needle and thread up and down the cloth at a regular distance. Of all the basic embroidery stitches, running stitch is the easiest to master and offers a quick way to outline a design. This quick stitch is perfect for borders and outlines, and you can change the look by varying the length of the stitches or using multiple colors. The Running Stitch is considered to be the basic stitch of hand embroidery, on which all other forms of sewing are based. After mastering this simple stitch, you can move on to more complex stitches like Backstitch, Satin Stitch, French Knot, Chain Stitch, Lazy Daisy Stitch, Whipped Running Stitch, Cross Stitch and Trellis Backstitch.
Backstitch
Backstitch is one of the most fundamental and commonly used stitches in embroidery. This versatile stitch can be used to outline shapes, create lettering, or simply add texture or shading to a design. It is created by bringing the thread through A and then taking it in through B. Each stitch looks like a series of straight stitches with a slight diagonal twist, creating a subtle but effective effect. With practice, backstitch can be used to create intricate designs or even whole scenes! It's also an easy stitch to master, so it's perfect for beginner embroiderers.
Satin Stitch
The satin stitch is a popular stitch used in embroidery, which is great for filling in shapes. It's often outlined using one of the straight stitches such as the Split Stitch, Outline Stitch, Back Stitch, Chain Stitch, or Lazy Daisy Stitch. To create a satin stitch, the needle should be inserted at point A and brought up from the back to start. When working with a multi-strand embroidery floss, it's important to separate the strands before you start. The stitches should be worked in neat rows with all the stitches having the same length and lying close together. When you're finished, you'll have a smooth, even surface that looks great!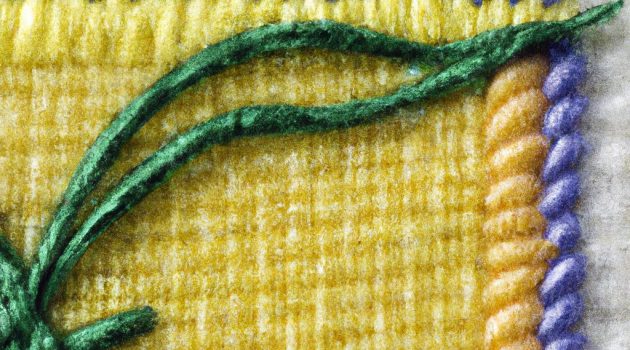 French Knot
The French Knot is one of the most popular basic stitches in embroidery. It produces a knot similar to a tiny ball, which can be used to create small flowers or to add texture and dimension to any embroidery project. To make a French Knot, you will need both hands (at least I do), so set your hoop in your lap or work surface. With your non-needle hand pinch the floss a few inches from the fabric and wrap the thread around the needle twice, as shown in Fig 2. You can also fill in the shape of a flower with French Knots, or use variations such as wrapping the thread around the needle different numbers of times to create different effects. With the French Knot, like all other stitches, practice is essential to get perfect results.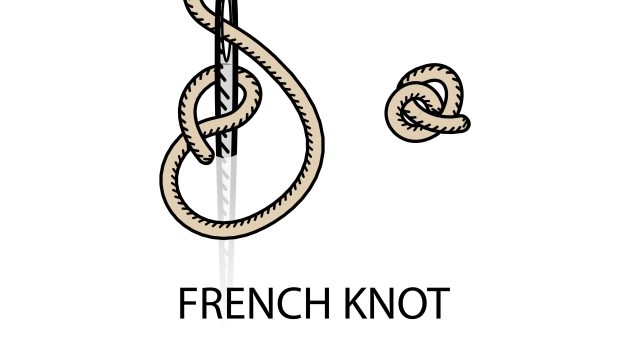 Chain Stitch
Chain stitch is a great stitch to add detail to your embroidery work. It has a looped appearance that can be used on both straight and curved lines. It is easy to learn and can be used to create thicker lines than running stitches. You start by coming up through the fabric with your needle and thread, then pulling the thread through the loop you just created. You continue this process until you have the desired length of chain stitch. It is often used in combination with other stitches such as backstitch and satin stitch, as it adds texture and dimension to a design. With a little practice, you will be well on your way to creating beautiful pieces of embroidery art.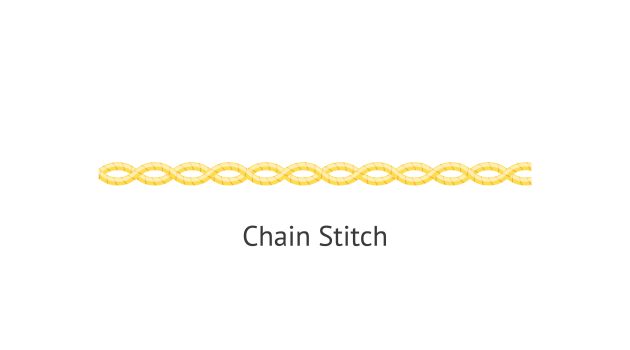 Lazy Daisy Stitch
Once you have a handle on the basics of embroidery, you can start to experiment with more intricate stitches. One of the most popular is the Lazy Daisy stitch. This stitch is made up of a single loop of chain and is commonly used to create petal shapes and small leaf patterns. It's a pretty easy one to do – just bring your needle from the back to the front of your work, push it down through the same hole, and then pull it up again to form a loop. You can then repeat this process to make multiple petals or leaves, depending on your design. Lazy Daisy can be used alone or combined with other stitches, like Chain Stitch or Satin Stitch, for more creative designs. With practice and experimentation, you can create beautiful works of art using nothing more than simple stitches!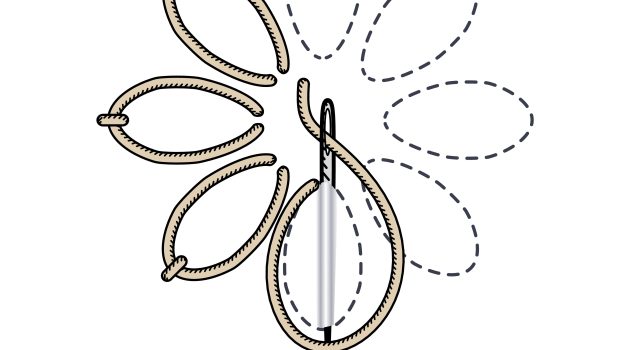 Whipped Running Stitch
Whipped Running Stitch is an embellishment to a normal running stitch. Its quick, simple and a great way to add an extra detail to your embroidery project. To start, you'll need to work a row of running stitches over your traced lines. Bring your needle out at the beginning of one traced line then push it back in at the end of the next line. Once you've completed the row of running stitches, you can begin entwining or 'whipping' another length of thread through the original base of running stitches. This creates a textured effect that adds an interesting dimension to your embroidery design. With practice, you'll find that this stitch can be used for both bold and delicate designs.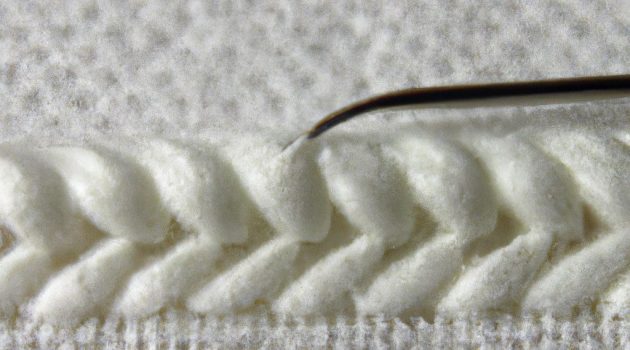 Cross Stitch
Cross stitch is one of the most popular stitches used in embroidery and it's easy to understand why. Cross stitch consists of a series of half-stitches, quarter-stitches, and row stitches, all of which are created by bringing the needle up from the fabric at point A and taking it diagonally to point B. This creates a simple cross stitch pattern that can be used to create a variety of intricate designs. Cross stitch is a great way to add texture and color to any embroidery project, making it an essential stitch for any embroiderer.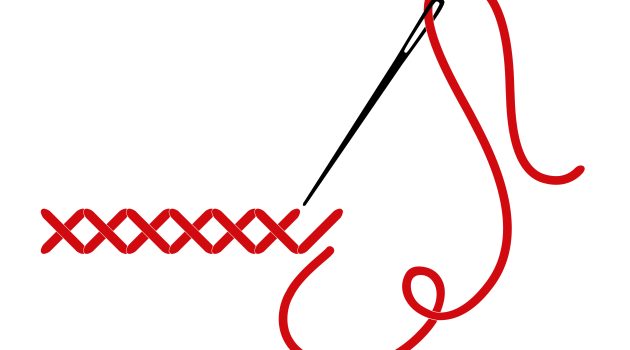 Trellis Backstitch
The Trellis Backstitch is a great way to fill large areas quickly and is a very easy stitch to work. Best used on even weave fabrics such as linen or Aida, this stitch follows curves of the pattern well and is a great addition to any embroidery project. It's similar to the backstitch, but uses a backward motion rather than the conventional forward motion, resulting in a lattice-like pattern. With tutorials available online, mastering this stitch will be easy for anyone who has already learned basic stitches like running stitch, backstitch, satin stitch, french knot and more.